Film karya Makoto Shinkai, Suzume, telah tayang di Cina sejak tanggal 24 Maret. Selama penayangan di Cina, Suzume berhasil meraih pendapatan luar biasa. Dalam 16 hari saja, pendapatan Suzume di Cina mencapai 700 juta yuan (sekitar 102 juta dolar) dan ditonton sebanyak 20 juta orang. Hal ini diinformasikan oleh Makoto Shinkai di akun Twitter-nya pada Minggu (9/4).
"Di Cina, 'Suzume no Tojimari/Tsubame no Journey' melampaui 700 juta yuan (sekitar 13,4 miliar yen) dalam 16 hari setelah dirilis, dan sejauh ini lebih dari 20 juta orang telah menontonnya. Itu angka yang sulit dipercaya. Terima kasih dari lubuk hatiku untuk semua cintamu!" Tulis Makoto Shinkai melalui akun Twitter nya .
BACA JUGA: Dalam 2 Minggu, Penonton Suzume Tembus 700 Ribu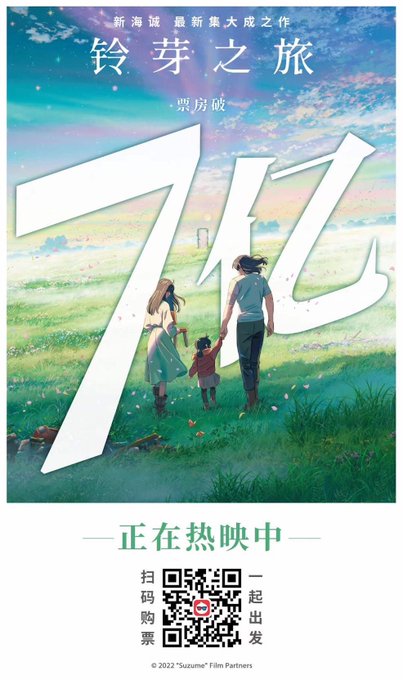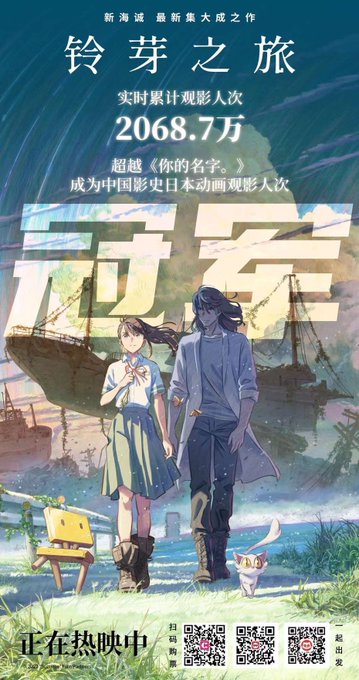 Suzume berhasil menjadi film anime terlaris yang pernah tayang di Cina daratan. Film ini berhasil melampaui film Makoto Shinkai sebelumnya, Your Name, yang berhasil membukukan pendapatan 575 juta yuan.
Selain itu, film ini mampu mengungguli film Marvel yang rilis pada bulan Februari lalu, Ant-Man and the Wasp: Quantumania. Film Marvel tersebut hanya mampu meraih pendapatan 272 juta yuan di Cina.
BACA JUGA; Lokasi Asli Dari Film Suzume
Hingga weekend ketiga, pendapatan Suzume di Cina masih tergolong tinggi. Berdasarkan Hollywoodreporter, film ini meraih 8 juta dolar di weekend ketiga. Namun di weekend ketiga tersebut, posisi Suzume di box office harus digusur film lokal Cina yang dibintangi Jackie Chan, Ride One, yang meraih 11,7 juta dolar. Akan tetapi, Suzume masih mampu unggul atas film animasi Hollywood, The Super Mario Bros. Movie, yang meraih 6,3 juta dolar. 
Diperkirakan, pendapatan film Suzume di seluruh dunia telah mencapai lebih dari 230 juta dolar, menjadikannya sebagai film anime terlaris nomor 6 di dunia. Di Jepang, film ini mampu meraih 14,45 miliar yen atau 109 juta dolar. Sementara itu di Korea Selatan, film ini meraih pendapatan kumulatif 44,785 miliar won atau 33,9 juta dolar. Di Indonesia sendiri, film ini meraih pendapatan sekitar 2 juta dolar.